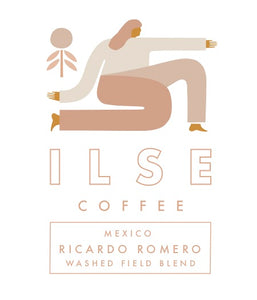 We taste: Strawberry jam, Short Cake, Almond
Region: Sierra Sur, Oaxaca 
Varietal: Bourbon & Typica
Altitude: 1700-1800 MASL
Harvest: April 2023 
Process: Washed
Next roast date: October 2nd
This is our third year working with Ricardo's Coffee and it seems to improve each season. We are finding the most expressive cup yet, leaving us with clear flavors of strawberry shortcake, milk chocolate, and almond.
It has been exciting tasting and learning more about the flavor profiles coming out of Mexico. This lot is a great example of old-stock Typica and Bourbon that has a lovely complex berry acidity.
Ricardo grows Typica and Bourbon at 1800 MASL on his 2-hectare farm in the remote area of San Francisco Ozolotepec. This is one of the more complicated areas to work in within Mexico as it is a closed indigenous Zapotec community. The majority of people in SFO and the surrounding communities speak very little Spanish and communicate principally in Zapotec. Ricardo has been involved in coffee production for his entire life. He works with around 90 other producers from his own and neighboring villages and is very interested in finding the best prices he can get not only by finding the best buyers but also by learning and improving their practices to raise the quality of their coffee.
Price Breakdown:

Farm Gate Price: 120 MXN/kg
FOB Price: $5.50/lb
Our Price: $6.70/lb
We roast to order every Monday and ship on Tuesday.